Here is a basic "California Hydrant" modeled after Morris Greenberg's design.
This hydrant was installed by the Oakland Fire Department in the late 1800s and was in service for over 100 years until 2000.
Water company names and other relevant data were often inscribed onto the bonnets of these early hydrants.
0623

This is a classic "low profile" 2-outlet hydrant installed by the People's Water Co. around 1910. It was also patterned after the Greenberg design. At only 22" high, the base flange would have to be set pretty high in order to turn a spanner on the lower valve.
It was removed from service in 2000.
0629

Here is a tall version of the "California Hydrant."
This hydrant saw service in Richmond, CA from the turn of the century until 2000.
0636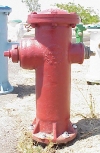 Here is a sample of United's most prolific "pumper" hydrant. manufactured from around 1910 until the early 1930s, they are still seen in many industrial and mercantile areas in the Bay Area.
This particular hydrant was removed from service in 2000.
0605