While Greenberg produced many different models, their most popular by far was their Model 75 which was still being produced until Greenberg was bought by Rich Valve in the late 1980s.
This 1963 hydrant typified a later Model 75, with the name Greenberg cast on the bonnet. The hydrant could be ordered with a knockoff valve. A rod attached inside the bulge shown on the back view of this hydrant, which in turn kept the knockoff valve from closing.
0620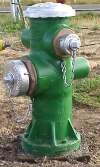 Click here For a back view
In 1945 the East Bay Municipal Utility District (EBMUD) produced their own design based on Greenberg's model 71, 74 and 75 hydrants. The EBMUD stem guides fit more closely against the body providing less obstruction on sidewalks.
This hydrant was in service in Orinda, CA from 1945 until 1997.
(Click here for another view.)
0588