Model 100
This version was S&J's shortest hydrant (19½" tall). It has a conventional "under the nozzle" chain attachment versus the wing gussets which appeared in the mid 1930s.
We believe this hydrant to date back to 1929.
0638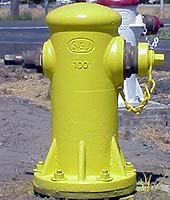 Model 100
This hydrant came from a residential neighborhood in Oakland where it was installed around 1934 and remained in service until 2000.
The nozzle collar reduces the hydrant from its original 3" size to the current 2½" standard.
0606