This Rensselaer List-90 from Berkeley, CA has a very old casting and does not show the 1895 patent date. The lack of the patent mark and location where it was installed suggests that it is an 1893 or 1894 model.
Rensselaers were very popular in California through the 1950s, even in more temperate areas where freezing was not a problem.
0505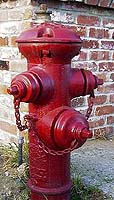 For jurisdictions that wanted independent control of each outlet, the multi-valve hydrant was developed. The main valve stem flooded the hydrant and independent gate valves sat behind each outlet.
This hydrant from Berkeley was installed in 1926 and was in service until 2000. The outlet gate valves were cast so precisely that even today they can be opened without need of a spanner.
0622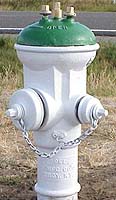 Click Here For a top view.