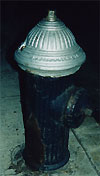 1323
Nozzles:
1x 2.5" 1X 4.5"
Size: ~? V.O.
Barrel: 1 pc.
Date: 19??
Location: New York, NY
Photo: © 2001, E. Kennedy
The only information cast on the hydrant is the company name and state of manufacture. This is located on the outer rim of the bonnet. This hydrant was photographed on First Avenue, near 65th Street. Other hydrants made by this manufacturer can be found in Inwood Hill Park, the NW corner of Ninth Avenue and 35th Street and likely elsewhere in the city.