The view of the Hose Case on the opposite page shows the skeleton interior. The Hose being run out, the Hose Shelf (A) raised to catch, and valve wheel in full view. Notice "Instructions" on the interior of door.

The Hose Case once installed is a practical utility and becomes indispensable.

All the most important buildings have their corridors and hallways proctected by fire hose for instant fire emergencies, and yet all Residences, School Houses and Public Buildings have no immediate fire protection on the exterior.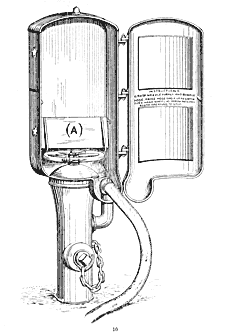 Each Hose Case will be supplied with two hundred feet of two inch best quality of linen hose. We use the Eureka Hose Co.'s specially treated grade, and is guaranteed against dampness and mildew. The Eureka Hose Co. have a national reputation for the most reliable goods.

Recommended by The Pratt & Cady Co.

THIS LINEN FIRE HOSE,
TESTED UNDER SUPERVISION OF
UNDERWRITERS LABORATORIES, INC