FancyCrazyHydrants
Baltazar Ray, Photographer
All images © 2003 Baltazar Ray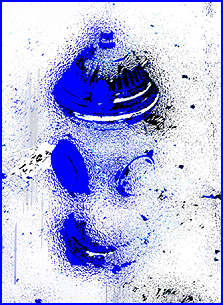 FancyCrazyHydrants is a combination photo and digital art collection of fire hydrants by Nutley photographer Baltazar Ray, on display at the Nutley Free Public Library through October. This avant-garde exhibition transforms the ubiquitous but seldom noticed fire hydrant into an objet d'art.
Baltazar Ray's fascination with fire hydrants evolved from his commute into New York City where he works as an architect. An avid photographer, he carries his camera daily and photographs anything he finds interesting - shadows, patterns, people and especially street scenes. "For me, art is a means of escape from the routine of 9 to 5 and photography is the sports car of art," says Baltazar Ray. He is intrigued by the patterns and collective images that he discerns in commonplace surroundings.
Baltazar Ray has always been fascinated with photography; he finds the digital revolution especially exciting. "All the things that I dreamt of before can now be done at a fraction of the time and cost. I'm sure the old masters like Ansel Adams, Eugene Atget, William Eggleston and Lee Friedlander would gladly jump into this if given the chance."
From his photo collection of fire hydrants evolved a book he titles The Adventures of the FancyCrazyHydrants written for children ages six to ten. It's a story about super fire hydrants, featuring Hydra and Pluggo, who save Guerlin City (formerly NYC) from the wrath of super villains Fireeba and Billow in the year 3000. "It is a story I wrote to and from work," Baltazar says. "Reading the book, you'll recognize familiar scenes in New York City and Nutley." Publication is scheduled for December 2003.
This novel exhibition alters our perception of fire hydrants and mundane objects. Children enjoy the kaleidoscopic effect of its colors and images. Says Baltazar Ray, "My other motive is to encourage everyone, especially the kids, to utilize the new technology and explore their artistic abilities. Creativity opens doors to other meaningful endeavors."