#57 - If a hydrant develops a rust hole in the side of the barrel (see photos), is welding an acceptable option for repair? What damage may occur from lack of caps? (see photos) Is an ISO rating affected by lack of maintenance of hydrants? Do you think a city would be liable for maintenance of hydrants connected to the city water lines, but outside the city limits? Could a city sidestep liability by considering hydrants outside city limits as "flush valves"?
--- Newspaper Staff Writer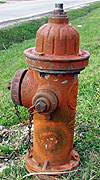 > If a hydrant develops a rust hole in the side of the barrel (see photo),
> is welding an acceptable option for repair?
It depends on the material used to cast the hydrant body. In cases of conventional cast iron, I'm not aware of any field welding process that meets any published standards. Furthermore a rust hole is indicative of general deterioration of the hydrant body. The proper method for salvaging an old hydrant body is to remove the body, sandblast the interior to white metal, then apply an epoxy coating. This solves the pinhole problem and if done properly will significantly extend the life of the hydrant.
> What damage may occur from lack of caps? (see photo)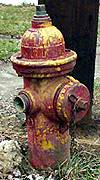 The brass outlet threads can be damaged which could render the hydrant useless. Debris can be (and often is) deposited into hydrants by curious children that can plug pump intakes of motor fire apparatus. Critical fireground operations can be hampered while an engine crew has to cap off unneeded outlets before charging a hose line from the hydrant. Other undesirable contaminants can be introduced from illegally dumped used motor oil to wasps building nests in hydrants.
> Is an ISO rating affected by lack of maintenance of hydrants?
Yes. 40% of a community's ISO rating is based on water supply. Particularly with dry barrel hydrants (the type of hydrants in and around your area), documented annual maintenance is a significant issue.
> Do you think a city would be liable for maintenance of hydrants
> connected to the city water lines, but outside the city limits?
This depends on the contract or franchise agreement with the county or special district which allows for water service to be provided outside the city limits. In many cases a water agency will specify that the fire department or a community services district will be responsible for fire hydrants and related equipment. The water agency's responsibility ends at the hydrant lateral valve in the street. Some other agencies levy a small service fee on the water bills for "foreign" customers to pay for maintenance of fire hydrants.
This argument sometimes boils down to a gift of public funds. If a city uses general tax revenues to maintain fire hydrants and those taxes are not levied outside the city limits, it may be illegal in some cases for money collected from city residents to be spent to benefit non-taxpaying rural residents unless there is some ancillary benefit to the city taxpayers (e.g., protection of city owned properties that are located outside the city limits proper.) This is often the reason that some financial burden is often shifted to people outside the city limits either in the form of a water bill surcharge (roughly equal to city residents' contributions for the same service) or by designating that another agency is responsible for either performing or paying for maintenance and repairs.
On the other hand if the water agency pays for hydrant maintenance and repair out of water rates and those same rates are being paid by water users outside the city, then the people outside the city have a reasonable equal protection argument which, depending on state laws and local agreements, may be more of a fairness argument than a legal one.
Most states have pretty strong immunity laws that protect municipalities. In most areas someone who loses a house because of a faulty hydrant isn't going to have much of a claim against a municipality for lack of maintenance unless he can prove willful and gross negligence. Your situation certainly seems to involve neglect, but the burden will be very high for a plaintiff to prove that the city had an obligation to maintain the hydrants, had the money and resources to do so, set a grossly unequal standard between how hydrants within and outside the city were maintained, and had reasonable foreknowledge that the result of its policies would be excessive and unreasonable public risk. If the city isn't collecting money for hydrant maintenance they could probably shield themselves with the argument that to do more than minimal maintenance would constitute a gift of public funds.
Again, if the revenue structure is equal within and outside of the city then the obligation argument starts to take shape and a remedy could be pursued civilly. A legal argument could be raised that the City has a franchise monopoly for providing water and as such has an obligation to maintain fire hydrants in the interest of public safety. One basis for this argument is the prevailing standard in the region wherein that water agencies also provide appropriately designed and maintained fire service connections (fire hydrants.)
> Could a city sidestep liability by considering hydrants outside city
> limits as "flush valves"?
If it looks like a duck, flies like a duck and quacks like a duck, it's a duck.
To say that the purpose of the same type of fire hydrant changes from one side of the city limit line to another is an indefensible argument. There are national specifications for fire hydrants and national specifications for flush valves. The police won't write you a ticket for being parked in front of a flush valve. Leave your car conspicuously parked in front of one of these hydrants then have someone tip off the local police and see if you don't get a ticket on your windshield. A reasonable person, like the police officer, would conclude that these in fact are fire hydrants.
It appears to me that the fundamental issue here is years of neglect and who pays to repair and maintain the hydrants. Here are my suggestions.
1. The fire department and County Commission need to take a non confrontational but very proactive position and two issues need to be immediately researched. First the legal obligation of the city has to be ascertained. Secondly all the hydrants need to be thoroughly inspected by the fire department and an assessment made as to how significant the problem is.
2. A plan needs to be developed to properly repair or replace the deficient hydrants. Used and rebuilt hydrant bodies can often be procured if cost is an issue. Practical options need to be explored and the costs for each estimated.
3. If the city is found to be responsible they need their feet held to the fire until they fulfill their obligations. If there is a funding or responsibility gap, community leaders need to explore funding options which could include applying for a grant to overhaul the hydrant network, surcharging water customers who benefit from these hydrants, adding a fire hydrant maintenance fee to fire taxes, or creating a community services district to maintain the fire hydrants.
4. The fire department needs to engage in an aggressive annual inspection, testing and maintenance program to prevent further deterioration and failures as well as to preserve any improvements that may be made. (Most fire departments limit their involvement to "non mechanical" repairs which include annual flushing, lubrication, maintaining paint and clearance, repairing cap chains and chain anchors and replacing missing caps.)
5. If the city is not required to fund and make hydrant repairs and some form of external funding mechanism is established, the involved agencies need to determine if the city water agency will be contracted to make repairs or if the county, fire department or community services district will perform the work.
6. The County Commission should pass an ordinance recognizing minimum standards as established by the various fire departments that serve unincorporated areas and requiring that whenever new building construction takes place, all hydrants that benefit the new construction shall be brought up to those established standards through installation of additional hydrants, retrofitting of existing hydrants or both. (NFPA standards and the Uniform Fire Code discuss how to calculate how many hydrants are required for various types of buildings, where they can be located, allowable distances, etc.)
(For the record, I live in small a rural community outside the city limits and we've been through this very same issue. We got new hydrants through a community block grant, the fire department maintains them and the town water agency is responsible only for providing water and maintaining the water mains. It has turned out to be a workable partnership.)
I hope this information is useful to you.
Willis Lamm, Water Supply Officer
Moraga-Orinda (CA) Fire District
---