"Finally I had the digital camera to take some pictures of my GREAT hydrant. Got it painted earlier in the spring and now it is attached to a concrete plate alongside my driveway. All neighbors have come to ask is that really what it looks like! And what a great thing - it's being made in 1976 - the same year as our house :-)"
"People driving by our house usually slow down when they see it... Man I'm happy and proud of it!"
--- Erkki Kauranen
Savion Volunteer Fire Department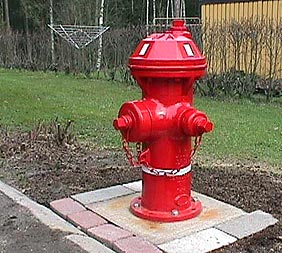 This hydrant spent its active service life in Blue Mounds, a small town in southwestern Wisconsin, USA. It was removed from service around March of 2000. From Blue Mounds it took a circuitous route to Finland via Cuba City, Richland Center, and finally Rhinelander, Wisconsin, flying from there to JFK airport near New York City via a UPS cargo flight. From JFK it traveled aboard a Finnair flight to Kerava, Finland.
From it's birthplace at the Clow Valve plant in Oskaloosa, Iowa, USA, to it's adopted Finnish home, the hydrant traveled more than 4600 miles (7400Km) as the crow flies.